News
Build 2021 is Acumen Academy's 5-week virtual conference full of panels, workshops, and community-building activities to help impactful builders 'just start' and create change around the world.
Contact pdenny@ucberkeley.edu to learn more about:
Our 2021 Women in Global Policy seminar is less than one month away and deadlines to apply for a scholarship and register for the seminar are fast approaching!
This year, our Women in Global Policy seminar will run from May 17th to May 21st. Participants will learn how to launch their international policy career through participating in policy discussions, diplomacy simulations, networking sessions, and more. Hear from students about the impact of this seminar on our blog, The Plenary, here.
Global Learning Conference: Preparing for your Future in an Evolving World
April 23-25
Free & Online.  Register here:  https://globallearning.ucdavis.edu/events/global-learning-conference
======================================
Do you have a vision that will change the world?
Our world needs changemakers who create new models and work within new paradigms of sustainable change. Innovate with us to make this world a better place and participate in the Global Social Innovation Challenge (GSIC). The GSIC is a social venture pitch competition that recognizes, resources and rewards student-led social ventures focused on sustainable change.

Come find out how you can apply for the chance to pitch your venture to a panel of judges for up to $50,000 in funding and other resources. 
InfoSession Details:
Wednesday, APRIL 14th OR Thursday, April 22nd
12:00pm- 1:00pm RSVP to attend:
https://docs.google.com/forms/d/e/1FAIpQLSfDD8RdwCbWdyTiJANNl9CGKXO5UiXyzVpcc-E3_yIOuJRBUA/viewform
REGISTER TO ATTEND: https://ucsd.zoom.us/webinar/register/WN_u0KT8EnTSxuRdeqPJ09eDQ
Just a quick reminder that CGIU applications are due this Friday, January 15th at 11:59 EST.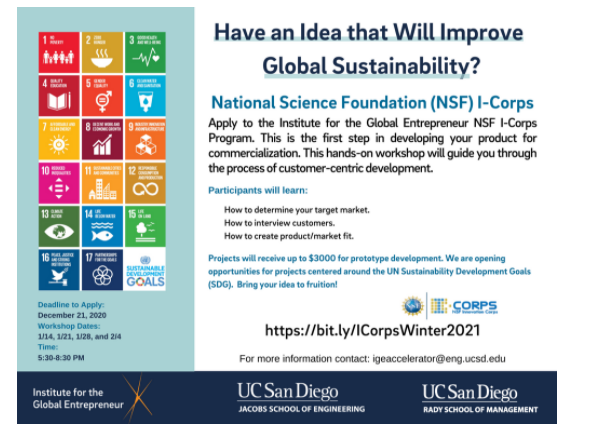 https://cmbc.ucsd.edu/plastic-challenge-2021/